Dr. Sungpil Yoon gave a poster presentation at the American Geophysical Union Fall Meeting in San Francisco on reprocessing multiyear GPS data. To define geodetic reference frame using GPS data collected by Continuously Operating Reference Stations (CORS) network, historical GPS data needs to be reprocessed regularly. Reprocessing GPS data collected by upto 2000 CORS sites for the last two decades requires a lot of computational resource. At National Geodetic Survey (NGS), there has been one completed reprocessing in 2011, and currently, the second reprocessing is undergoing. For the first reprocessing effort, in-house computing resource was utilized. In the current second reprocessing effort, outsourced cloud computing platform is being utilized. In this presentation, the outline of data processing strategy at NGS is described as well as the effort to parallelize the data processing procedure in order to maximize the benefit of the cloud computing. The time and cost savings realized by utilizing cloud computing approach is also discussed.
S. Yoon, "Reprocessing Multiyear GPS Data from Continuously Operating Reference Stations on Cloud Computing Platform," American Geophysical Union Fall Meeting, San Francisco, California, December 12-16, 2016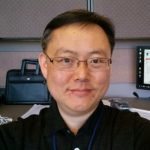 Dr. Sungpil Yoon is Professor of GeoMission, GPS/GNSS & Physics Specialist in the Department of Geospatial Studies in the School of Ecological Mission at Missional University. His academic credentials include a B.S. in Physics, Yonsei University (KR); M.S in Aerospace Engineering, University of Texas at Arlington (USA); and a PhD in Aerospace Engineering at Auburn University (USA). His experience includes serving as a Geodesist at the National Oceanic and Atmospheric Administration (NOAA) / National Geodetic Survey.
Link to Article Abstract.     Faculty Profile