Dr. Matthew Michael presents a biblical theology of providence by exploring the theological tensions between divine determinism and the beliefs in 'chance' and 'good luck' in Greco-Roman and traditional African worldviews. It also situates the discourse in the template of biblical theology and other defining theological works. Finally, the paper explores the distinctive character of providence in biblical thought and its possible use to affirm the sovereignty, care and love of God in the face of despair, misery and lostness that have characterized modern African societies.
Outline
Introduction
'Chance' and 'Good luck' in Greco-Roman Thought
'Chance' and 'Good luck' in African Traditional Thought
Divine Providence in Biblical Thought
Divine Providence in Dominant Christian Thought
Conclusion
"Divine Providence or Good Luck?: A Biblical Theology of Providence Compared with 'Chance' and 'Good Luck' in Greco-Roman and African Traditions." African Journal of Evangelical Theology 28, no. 1 (2009): 23-41.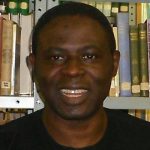 Dr. Matthew Michael is Dean of the Theological College of Africa and Senior Professor of Old Testament Mission, African Theology Specialist in the Department of Biblical Studies in the School of Theological Studies at Missional University. His academic credentials include a B.A. in Theology & Missions. M.A. in Biblical Studies (Old Testament) and a PhD in Old Testament at ECWA Theological Seminary (NG). In addition he took doctoral seminars at the Depts of Old and New Testaments, Faculty of Theology, Stellenbosch University (ZA) and at the Bengelhaus/Protestant Department, Tuebingen University (DE).